Critical-Sized Defect
aXOpore® Custom Made Device (CMD) is a 3D printed scaffold, made to fit bioresorbable implant used in the treatment of critical sized segmental defects.
aXOpore® is designed with a patented interconnected architecture that promotes tissue and vascular ingrowth. aXOpore®'s homogenous composite of Polycaprolactone-Tricalcium Phosphate (PCL-TCP), provides sufficient mechanical strength, is biodegradable, and provide osteoconductive properties.
This bioresorbable implant is designed alongside the patient's surgeon and modelled according to CT scans that is recommended for bone reconstruction of severely injured patients up to 20cm and compatible with fixation devices.
aXOpore® offers the following benefits:
Pain free full weightbearing achieved within 12 months
Promising short-medium term results

PLEASE NOTE: This product may not be approved yet in your country. Product indications may also vary from country to country. Please check with our local representatives for more information.
Instructions for use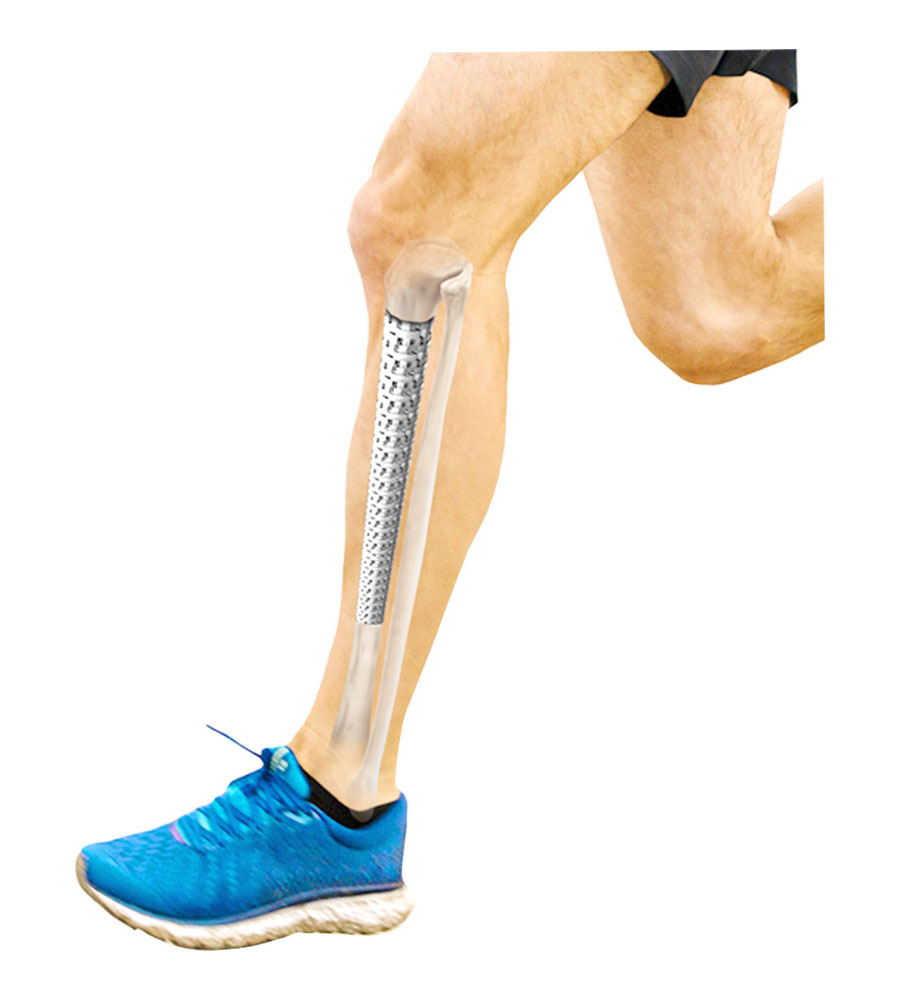 Feature Video
Recommended Products
| | |
| --- | --- |
| Product Code | Specifications |
| PT60-S | 2cm to 5cm/sterile |
| PT60-M | >5cm to 10cm/sterile |
| PT60-L | >10cm to 20cm/sterile |
aXOpore®* CMD is supplied, in whole or in parts of a sub-assembly. The product is packaged sterile and ready to use.
Please check if our products are available in your country. Contact us for more information.
Supporting Documents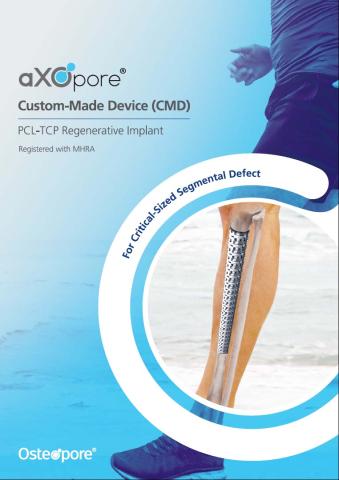 Brochure: aXOpore® Custom-Made Device
References
1. Laubach, M et al. (2022). Clinical translation of a patient specific scaffold guided bone regeneration concept in four cases with large long bone defects. Journal of Orthopaedic Translation, 34(April), 73–84.
2. Woodruff, M. A. et al. (2012). Bone tissue engineering: From bench to bedside. Materials Today, 15(10), 430–435.
3. Kobbe, P et al. (2020). Convergence of scaffold guided bone regeneration and RIA bone grafting for the treatment of a critical sized bone defect of the femoral shaft. European Journal of Medical Research, 25(1),1–12.