Septal Extension Grafting
The incorporation of Osteomesh strengthens the patient's septal extension graft. This scaffold is made of bioresorbable polymer that biodegrades between 18-24 months via hydrolysis. 
Osteomesh provides good structural support to achieve long-term aesthetically pleasing nose reconstruction outcome.
PLEASE NOTE: This product may not be approved yet in your country. Product indications may also vary from country to country. Please check with our local representatives for more information.
Instructions for use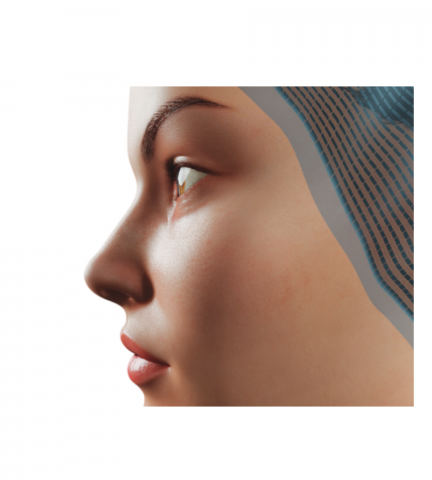 Featured Video
Recommended Products
*More sizes are available for purchase. Please contact us for more information.
Supporting Documents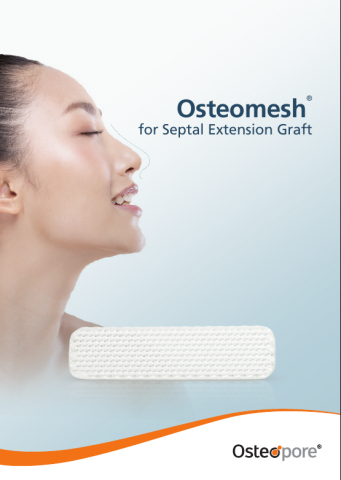 Brochure: Osteomesh for Septal Extension Graft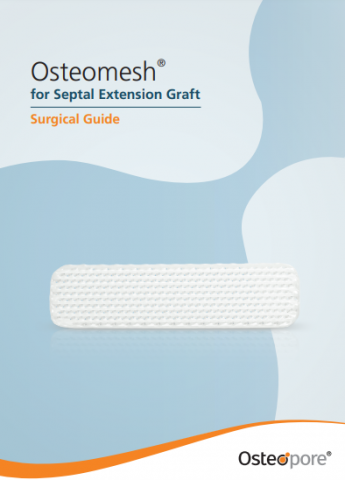 Free E-Surgical Guide: Septal Extension Graft

References
Kim, S. H. & Choi, J. Y. Surgical outcomes and complications of septal extension graft supported by 3D printed polycaprolactone plate. Laryngoscope 130, 1680–1685 (2020).
Ahn, T. H., Heo, C. Y. & Ahn, K. C. A compound osteocartilaginous graft with polycaprolactone (PCL) mesh in Asian rhinoplasty. Journal of Plastic, Reconstructive & Aesthetic Surgery 12(29), 1-2 (2020).
Nam, J. H., Lee, S. Y., Khan, G. & Park, E. S. Validation of the optimal scaffold pore size of nasal implants using the 3-dimensional culture technique. Archives of Plastic Surgery 47, 310-316 (2020).
Wiggenhauser, P. S., Balmayor, E. R., Rotter, N. & Schantz, J. T. In vivo evaluation of a regenerative approach to nasal dorsum augmentation with a polycaprolactone-based implant. Eur. J. Med. Res. 24, 6 (2019).